突发公共卫生事件的有效风险沟通:新冠病毒在武汉爆发引发的思考。
This paper is aimed at the thought caused by the sudden outbreak of Corona Virus in Wuhan, and mainly explains the effective risk communication of public health emergency. This article was published on March 21, 2020 by Liwei Zhang, Huijie Li, and Kelin Chen.
Research background 
Research objective 
Research methodology 
Research experience 
Limitations / Conclusion
Research background 
Corona Virus (New coronavirus, officially named 2019-nCOV by the World Health Organization, is a zoonotic source of SARS-COV, severe acute respiratory syndrome coronavirus) It broke out suddenly in Wuhan. This is seen as the third major coronavirus outbreak after the SARS virus in China in 2003 and the Middle East Respiratory Syndrome coronavirus in 2012. Because public health outbreaks are highly uncertain and do not adhere to specific boundaries, risk communication is more important for developing effective public health prevention strategies.
Research objective 
This paper takes Wuhan Corona Virus outbreak as an example to reflect the effective process and precautions of risk communication.
Research Method 
1. Data Source
All data in this paper can be divided into three parts:
The data of new coronavirus pneumonia epidemic situation can be retrieved from the National Health Commission of China and the Health Commission of Wuhan City, some summary reports related to infection cases published by Chinese authoritative media such as China Business Network and the use of in-depth investigation. The data are intended to reveal how the government manipulates information about actual cases of infection; 
The information on the responses and other actions of the government and experts came from authoritative Chinese media and mainstream Internet media, including Xinhua News Agency Financial News and Sina News. 
We obtained interviews with government officials and experts from the Global Times and other authoritative Chinese media.
2. Message-centered Approach
Message-centered Approach provides a scientific and systematic approach to achieving convergence and avoiding information asymmetries around risk This approach lists best practices for building mutually beneficial relationships with risk stakeholders. To help stakeholders identify risk uncertainties and continuity of communication, and to respond to the communication and information needs of different audiences.
3. Research experience
From the time axis of risk communication in Wuhan City, three aspects related to risk communication can be summarized. Government decision-making, government information release and risk interpretation follow the nine aspects of information-centered approach. The author selected several aspects of risk communication with the novel coronavirus to analyze an example of ineffective risk communication.
Infuse Risk Communication into Public Decisions.
Present Risk Message with Honesty.
Account for the Uncertainties Inherent in Risk.
Acknowledge Diverse Levels of Risk Tolerance.
Based on the experience and lessons of Wuhan, the principles of effective risk communication are as follows:
Accessibility and Openness of Risk Information.
Communicate Early and Often About Risk.
Strategic Method for Communicating Uncertainty.
Limitations/Conclusion
In fact, this article is not particularly rigorous in many aspects. It does not achieve academic rigor. First of all, he neglected the data and did not provide clear data analysis to study the viewpoint. This makes it impossible to achieve the standardization of the article and the method of quantitative and qualitative synthesis of academic circles. The author of this article does not give the cause and the course, only according to the results, referred to as "after the event". Finally, the simplified risk communication model given does not form a "three-dimensional" relationship, but is a very unbalanced triangular relationship. Whether this diagram exists or not is worthy of further research and discussion.
信息可视化图(infographic)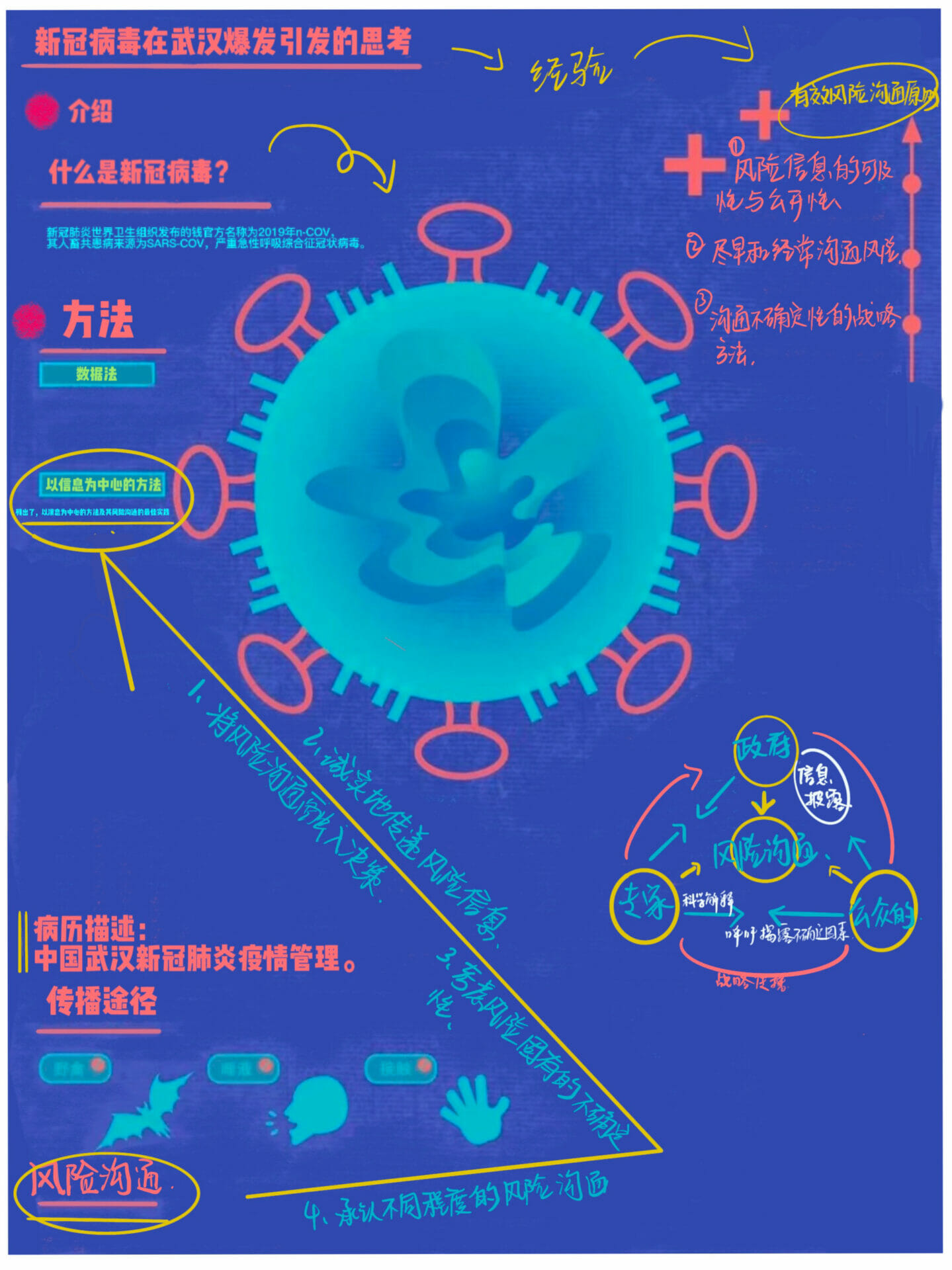 感想
这个课程终究还是让我熬夜了,也恰逢在这个结课的紧要关头,我"羊"了。终感觉自己的学习能力还是太弱了,在课程的过程中经常会跟不上老师的思维,吸收的也不是特别快。对于一个学传统艺术的国画人来说,我感觉我对科技的把控度为零,我是属于被科技摆布的那一类人,多少感受到了自己的low和不足。但好在最后平平凑凑应该是把作业做出来了,虽然可能不尽人意,但我真的是在我的理解范围内去做了,感谢在课程里帮助3的老师和同学们。
原文
Zhang, L., Li, H., & Chen, K. (2020). Effective Risk Communication for Public Health Emergency: Reflection on the COVID-19 (2019-nCoV) Outbreak in Wuhan, China. Healthcare, 8(1), 64.
---